Test vos cables Ethernet et vérifie/garantie la vitesse limite de ces cables.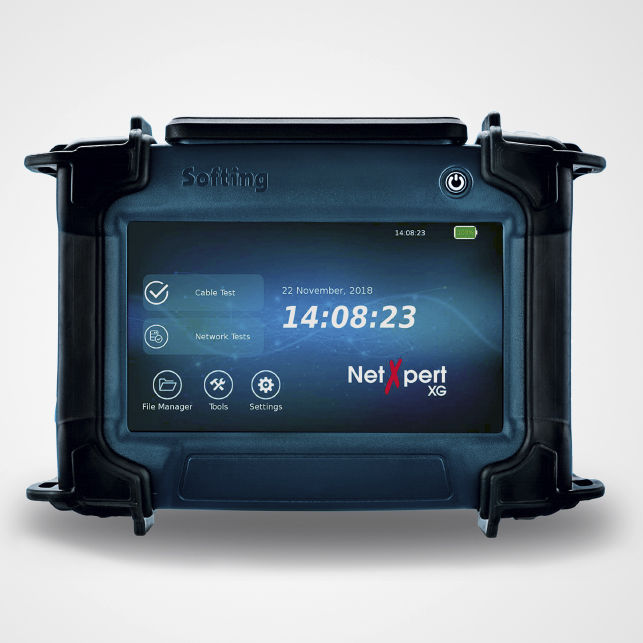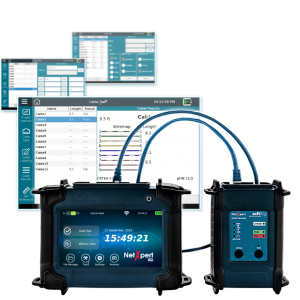 Les vitesses des " Wireless Access points" dépassent souvent, les vitesses de cablage installé dans le réseau . Est il possible que vos cables gèrent des vitesses bien au delà de leurs spécifications ? Est il possible que vos cables CAT5e ou CAT6 puissent atteindre des vitesses de 1GBits/S voire 10Gbits/s
Pour le savoir, une simple fonction sur le NetXpert XG, permettent d'effectuer 3 tests. Effectue un test de vitesse en envoyant 1Gb/s de données via votre cable ( Test BERT ) et il prouvera si celui ci fonctionera au-delà  des spécifications et suivra la vitesse des "Access Points" installés
Le NetXpert est le seul testeur de cables et gestionnaire de réseaux actif a effectuer  un test de taux d'erreurs sur les bits ( BERT ) , un test de signal Signal/bruit ( SNR) et retard de vitesse de 1Gb/s, 5Gb/s ou 10Gb/s en appuyant sur une touche. Vous pouvez maintenant effectuer des tests de débit en temps réel pour valider vos cables jusqu'à 10Gb/s.
Test le taux d'erreurs, le bruit et le delai de propagation instantanément
En effectuant un test de taux d'erreur sur les bits ( BERT ) et selon les normes IEE802.3an, le NetXpert XG vous certifie ou non, une transmission de données sans erreur jusqu'à 10Gb/s
Test automatique avec une "touche" comprends le rapport Signal/bruit ( SNR) et le décalage temporel, qui peuvent avoir un impact significatif sur la transmission Gigabit
Le rapport "signal/bruit" vérifie que le bruit est suffisamment faible et que le signal est suffisamment élevé pour une transmission fiable. Le "delai de propagation" indique un décalage entre les paires de fils. Un retard excessif peut entrainer un sérieuse dégradation de la transmission et donc de la performance.
Les 3 mesures fondamentales pour déterminer si une transmission est fiable ou non, peuvent être effectuées à l'aide d'une seule touche. La mesure faite, vous pouvez réitérer immédiatement à l'aide de cette unique fonction. Chaque mesure est archivée et est fournis à un rapport de synthèse final au format PDF, CVS ou XML
The cable qualifier that is defining a new category — the cable project qualifier
If you are a cable installer, network owner, network builder, or system integrator, you'll be excited to hear that NetXpert XG includes a project editor and auto test generator for up to 1000 cables, and test reports you can keep for your records or leave with your customer.  Once the tests are created, plug in the cable, click test, and NetXpert XG starts testing the cable to IEEE 802.3 standards to prove the speed of your cable.  Not only do you get a wiremap and cable length, NetXpert XG tests BERT, SNR, Delay Skew, distance to opens, shorts, or miswires.  As a bonus you get active network tests for copper, fiber, and wireless.  And, with 2 NetXpert XG local units, you can test fiber cables.
Use the project editor, cable test editor, test label editor to pre-configure your cable testing projects
Press test to automatically sequence up to 1000 cable tests from the local or remote device to increase cable testing efficiency when working alone
Test data cabling for IEEE 802.3 compliance at data rates up to 10 Gb/s (BERT)
Determine signal-to-noise ratio (SNR) for compliance up to 10 Gb/s
Measure delay skew for compliance up to 10Gb/s
Measure length of cable with TDR and capacitance measurements for highly accurate test results and easier troubleshooting
Full-color wire map shows distance to open, distance to short, miswires, split pairs, and shield on a color graphical display
Save test results and generate standards-based measurement reports providing "Pass/Fail" indication in pdf, csv, or xml format
Perform active network management
Support for IPv4 and IPv6
Discover your network and see the connected network devices
Identifies defective PoE switches with a PoE load test
DHCP test
Ping lists can be defined and saved for later use
LLDP/CDP detection and analysis
Identifies VLANs present in your network
Data transfer from the tester to the PC using USB stick, wireless, or bluetooth connectivity
Length Measurement Technology
Time-Domain Reflectometry (TDR) and capacitance
Cable Measurements
Cable Testing and ID: up to 1,000 ft (305 m)
Split Pair Detection: 3 ft (1 m) to 1,000 ft (305 m)
Length Measurement: 0 to 1,500 ft (457 m), ± (5%+1ft (30 cm))
Distance to fault: 0 to 656 ft (200 m) ± (5% + 3ft (1m))
Supports 8 wiremap remotes (RJ 45) and 24 RJ-45 ID only
remotes
Power over Ethernet (PoE)
Test supports IEEE 802.3af PoE (Type 1, max 15.4W),
IEEE 802.3at PoE+ (Type 2, 30W) and 802.3bt PoE++ (Type 3, 60W)
Future proofed for IEEE 802.3bt Type 4 100W higherpower PoE
Active Ethernet
Network and test support by interface:
Copper RJ-45 interface –100/1,000/2,500/5,000/10,000 Mb/sec link speeds
Fiber SFP+ #1 interface supports 10Gb/sec link speed
Fiber SFP+ #2 interface supports 1Gb/sec link speed
WiFi 802.11 a/b/g/n 2.4 Ghz WiFi and Bluetooth
Maximum Voltages
Maximum voltage that can be applied to any 2 connector pins without causing damage to the tester:
RJ-45: 60 VDC or 50 VAC
Save Test Results
Stores virtually unlimited cable or network tests with user defined names per project
Tone Generation
Tone Frequencies: 730 Hz and 1440 Hz
Languages
English, German, French, Spanish
Battery
Li-Ion, 7.2 VDC, 3.1A-hr (typical)
Battery Life at 10Gb: 5 hrs minimum, 24 hrs stand-by
Temperature
Operating: 14 to 140° F (-10 to 60°C)
Storage: -22 to 158°F (-30 to 70°)
Humidity
10 to 90% non-condensing
Enclosure
Injection molded plastic
Display
7″ Color TFT-LCD capacitive touch display,
1024 x 600 resolution (WSVGA)
Size
245 x 177 x 73 mm (main unit)
130 x 177 x 55 mm (Active Remote)
Weight with Battery
2.6lbs (1.2 kg) main unit
1.3lbs (0.6 kg) Active Remote