EZ Gateway Modbus to BACnet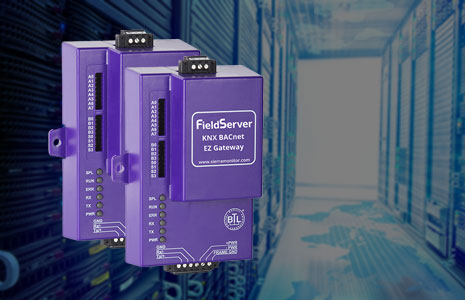 The EZ Gateway Modbus to BACnet (FS-EZX-MOD-BAC) is an easy-to-use, high-performance building and industrial automation protocol gateway for integrators to interface Modbus devices, such as power meters, flow meters, and other Modbus-based controllers, to BACnet networks in commercial buildings, campuses, and industrial facilities. The EZ Gateway supports up to 1000 data points and can connect various flavors of Modbus to BACnet, including:
Modbus RTU
Modbus TCP/IP
BACnet/IP
BACnet MS/TP
The EZ Gateway is the quick and easy solution to a system integrator's Modbus to BACnet integration needs. With the EZ Gateway, the integrator or contractor does not need to be a protocol expert to connect any Modbus device to a BACnet system using either BACnet protocol.
With our long-standing association with the Modbus Organization and total commitment to the Modbus standard, we consistently implement the latest Modbus innovations on our FieldServer protocol gateways and test them thoroughly for interoperability. With tested Modbus features like bit extracting, 32 bit float/integer support, and scaling, our EZ Gateway Modbus to BACnet can work with virtually any Modbus device out of the box. Instant interoperability means that there the devices can be commissioned quickly.
Unparalleled Performance
The EZ Gateway Modbus to BACnet has two RS-485 ports, enabling connection for fewer devices per port, which improves response time. With two RS-485 ports, up to 64 Modbus RTU devices can be connected to the EZ Gateway without the need of adding a repeater to the RS-485 network. Compared to single-port gateways, our dual-port EZ Gateway can reduce the cost of device connectivity or double the speed of connected devices.
The EZ Gateway can connect to 100 Modbus TCP/IP devices via Ethernet. In addition, support for Modbus TCP/IP Concurrent Polling on our EZ Gateway enables faster response time and more devices per segment in situations where the Modbus field devices also support concurrent polling.