Multi IR Flame Detector 3600-M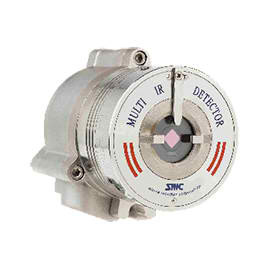 he 3600-M uses infrared (IR) technology, a reliable design that provides early warning of flaming fires and immunity to false alarms from IR sources such as sunlight and IR projectors.
The 3600-M utilizes a Multi-Spectrum Design, allowing it to detect hydrocarbon and hydrogen flames up to 215 feet away. It can detect a gasoline pan fire at 215 feet or a hydrogen flame at 100 feet in less than 5 seconds. Users can also select different sensitivity levels to ensure no other detectors cross-over detection zones. Other features include a heated window to eliminate condensation and icing, HART and Modbus capabilities for digital communications, low power requirements, and a compact design.
The Multi IR Flame Detector 3600-M is approved and certified by a variety of third party agencies, including FM, ATEX, IECEx, TUV, and CSA. These approvals and certifications assure our customers that we carry only the highest quality of products and performance.