Managed 8 x 10/100/1000 RJ45+ 4 x GbE SFP Industrial Switch, PROFINET Approval, Aluminum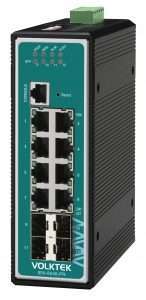 The PROFINET certified Industrial Ethernet switches enable real-time communication for automation control. PROFINET bypasses the network layer for some specific application to provide real-time communication. Volktek comes up with the openstandard PROFINET certified industrial switches for real-time motion control of industrial instruments and factory automation. In a high precision control environment, the data exchange rate must be faster to meet the speed requirements. Therefore, the PROFINET certified switches can transmit the real-time and Non-real-time data in 10 and 100ms, respectively.
Robust Switch Performance 
IEN-8648-PN is built with IP30 aluminum case protection, surge and ESD protection to deliver robust performance and withstand extreme conditions in Industrial environments. The SFP ports support 1000Mbps for high bandwidth transmissions and the SFP DDM feature enables service providers to monitor SFP parameters. In case of any abnormal hardware condition, the switch automatically sends warnings through email and relay output with real-time alarm messages. This assists the system administrators to immediately react to emergency events and diagnose the faults more efficiently for smoother network operations.
Port-based VLAN, IEEE 802.1Q VLAN, GARP and GVRP to ease network planning 
Planning, designing and managing complex networks is now simplified with IEN-8648-PN. The switch supports VLANs which segment large networks into smaller parts and organize them into separate broadcast domains. This helps the administrators to control the traffic patterns, limit broadcast traffic and reduce broadcast storms. As the network expands, to provide control of increased VLANs, the switch offers GVRP feature, an application protocol of GARP, which registers and deregisters devices and its ports depending on their availability. This feature prevents unnecessary network traffic transmitted by unregistered users and simplifies the network design irrespective of its size.
Network Redundancy 
Volktek's industrial switches redundant ring architecture enhances network reliability and make them ideal for deploying secure automation network systems in tough outdoor industrial environments, such as ITS, maritime, mining, and manufacturing systems. New generation of Volktek Xpress Ring delivers a various choice of ring topologies, including Xpress Ring, Dual Xpress Ring, Dual Homing, in rapid recovery time (<20ms @ 250 switches). G.8032v2, Ethernet Ring Protection Switching (ERPS) protocol,provides protection for Ethernet traffic in a multiple ring topology with fast recovery time (less than 50ms).
Redundant Power system
Mission-critical industrial applications need to operate without any interruptions because even a minimum network downtime can hugely impact the overall output. Providing continuous power as well as data to such applications is now made easy with IEN-8648-PN's redundant power system. The switch is designed with standard industrial terminal block for redundant power. In case the primary power supply fails, the secondary power source will enable the switch to provide continuous service.